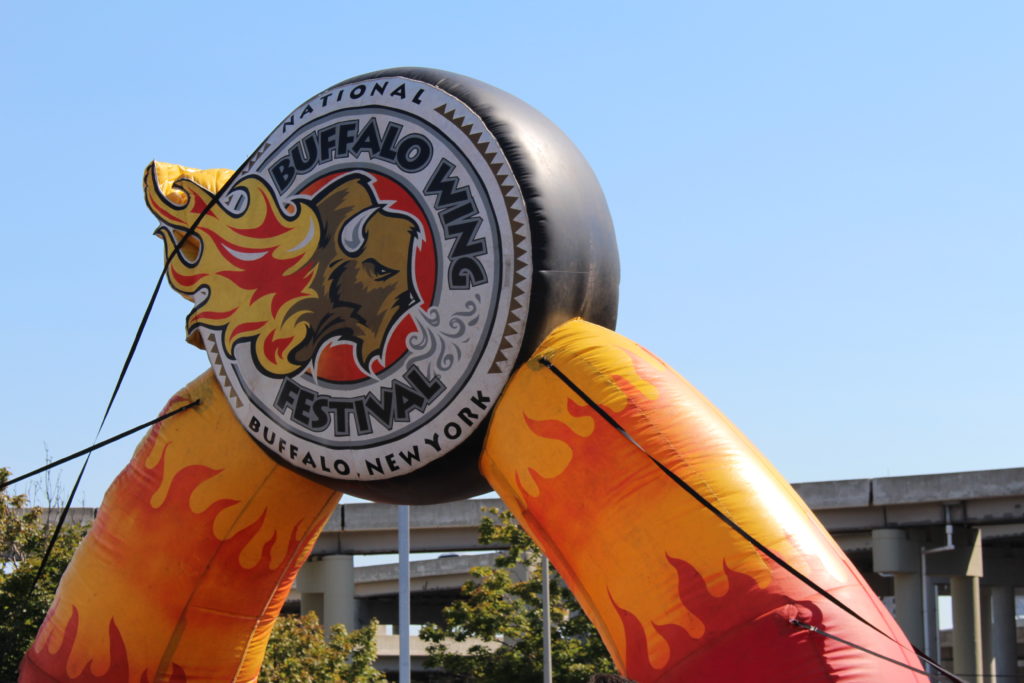 Last weekend, we attended the 15th annual National Buffalo Wing Fest and it was great! Check out part 1 for a full recap. Attending local festivals is one of my favorite things to do during summer and fall!
While I was at the wing fest, I saw a bunch of pregnant people enjoying themselves and all the deliciousness that the wing fest had to offer. I wanted to share a few tips for making the wing fest more enjoyable while pregnant because as we all know, pregnancy can make things a little tricky; however, being pregnant does not mean you can't enjoy your favorite festivals or events.
So without further ado, here are my favorite tips for enjoying the wing fest during pregnancy (keep in mind these tips can be used for any type of festival):
Plan for the weather: The wing fest happened to fall on a very warm day in September this year. I would recommend really considering the weather before finalizing any plans because you want to be comfortable not miserable! There's always a way around the weather, like picking the coolest day or going at a time when it's cooler, etc.
Take breaks: There will most likely be a lot of walking while you're at the festival which can make anyone tired. Don't forget to take frequent breaks and pace yourself, you're more likely to enjoy your day if you're not completely exhausted.
Keep hydrated: This is usually my number 1 tip for anyone during pregnancy, but it's extra important when you're increasing your activity (like walking around at a festival). Increasing your fluid intake before you get to the festival will ensure that you are starting the day out with good hydration.
Have realistic expectations: I feel like this is so important throughout your pregnancy experience. We must be realistic in our expectations to avoid disappointment. If you're early in your pregnancy and still experiencing morning sickness, you may have to pass this year. On the other hand, if you're nearing the end of your 3rd trimester and you're uncomfortable, maybe just go for a short time.
I hope you enjoyed these tips and will take them into consideration as you plan next year's visit to the wing fest. Leave us a comment letting us know your number 1 tip for enjoying festivals while pregnant. We feel pregnancy shouldn't stop you from having fun and attending your favorite festivals!
Save