This past Sunday, we had the opportunity to check out The National Buffalo Wing Festival in downtown Buffalo. It was the perfect summer day to check out local restaurants and enjoy the different wing themed events scheduled throughout the day. This year happened to be the 15th annual National Buffalo Wing Festival and the story of how the Wing Fest came to be is one for the story books! Check it out here!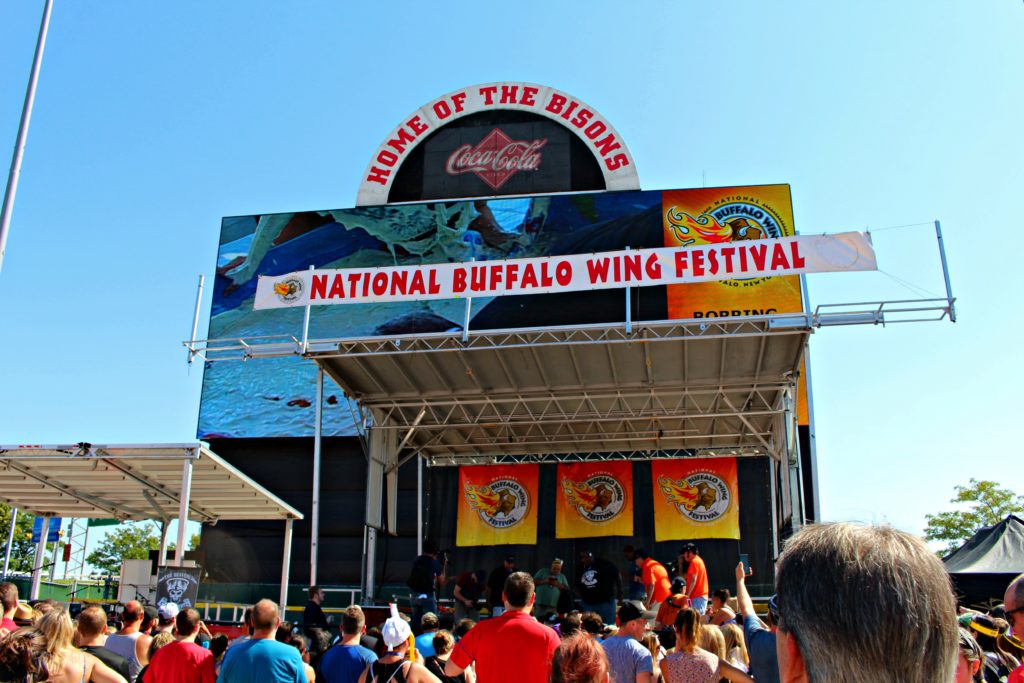 Here is a recap of our afternoon at the #WingFest:
We headed down to Coca-Cola Field a little after noon on Sunday. Our first stop was the Entertainment Zone where we were able to wander around to the different vendors and pick up some information (and fun freebies!). I really enjoyed the NY Visitor's Center and I grabbed a few New York State travel catalogs for future reference. We also had a lot of fun watching the Buffalo Ninja Warrior Competition! It's amazing what these athletes can do. We are huge fans of the show American Ninja Warrior so it was really neat to see a course in person.
And then we headed in for wings! Of course, we wanted to try all the restaurants but even on our hungriest day we wouldn't have been able to 🙂 There was literally a chicken wing for everyone so we decided to sample a handful of places that we've never eaten at. I totally plan on checking out the other local restaurants throughout the year as well as we are always looking for new restaurants to try!
Our first stop was the Seneca Buffalo Creek Casino, where we tried the Buffalo Mac & Cheese. It was pretty good and not too spicy which is what I like. Then we headed to Duff's. I tried the Dr. Pepper BBQ wing and my partner in crime tried the medium wings. We both really liked the wings from Duff's!
Next up was Curly's Grill, neither  one of us had ever heard of this restaurant and we were both pleasantly surprised! I tried the Asian BBQ wing and it was really flavorful, again not too spicy but full of flavor.
We headed over to the Hard Rock Cafe, where I tried a tangy bbq wing and Frank tried a classic wing. I really liked the bbq wing and the classic wing was your average wing.
Then, I decided I *needed* to see why the line for Boneheads Wing Bar was so long. I ended up waiting in line for 45 minutes! We got 4 different wings from Boneheads and I was amazed at the flavor options. We choose the Breakfast at Tiffany's wing (maple bacon), The Jack wing (whiskey honey BBQ), Eye of the Tiger (Carolina buffacue balsamic) and a Bourbon, Scotch, Beer wing. They were all very tasty and only 1 was really spicy!
I am so thankful that I brought Frank so he could help with the taste testing! Because after we tasted a variety of wings, we were ready for dessert 🙂 Does it get any better? We shared a peanut butter pie from Danny's Restaurant and a little vanilla ice cream from Perry's!
The Heavenly Chillbillies Blues Band was playing music in the background which was nice for creating the atmosphere. We were also able to catch the college wing eating competition and the bobbing for wings (in blue cheese) competition which were so fun to watch!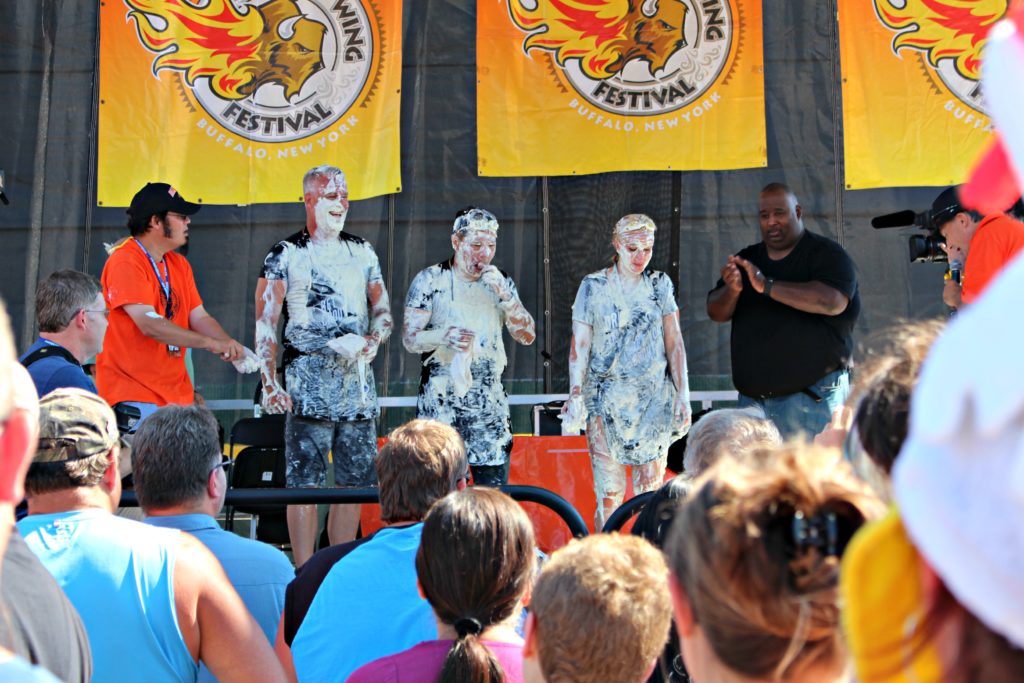 If you made it to the wing fest, leave a comment and let us know what your favorite part of the wing fest was! Stayed tuned for part 2, which will include tips for enjoying the fest even during pregnancy!
*We were generously provided with tickets to the wing fest by the National Buffalo Wing Festival; however, all the food, drink, etc. was purchased by us.*
Save